I'll be honest with you: I'm not a huge makeup junkie. I was never one to watch YouTube tutorials, try out a million different lip shades or spend $100+ in Sephora (although I see how that's very easy to do). No disrespect to everyone out there who proclaims themselves as a makeup enthusiast–if you can do a perfect cat eye, I have mad respect for you. IDK why, but growing up & now in my 20's, I'm just not that into makeup.
All that being said, I do like to wear makeup & wear some almost every day (because I'm not Beyoncé and do not wake up flawless.) It makes me feel pretty and put together so I have a very simple (and quick!) routine that I do every morning. I figured I'd share it with you because it's ideal for the mornings you're running late for work/school or you want to go with a simpler weekday look. The best part is, this routine is less than 5 minutes (I actually timed it this morning) and most of the products I use are under $10. So for the days that you rather get a lil extra beauty sleep~ vs. put on your face, try this makeup routine instead.
Step 1: All about that Base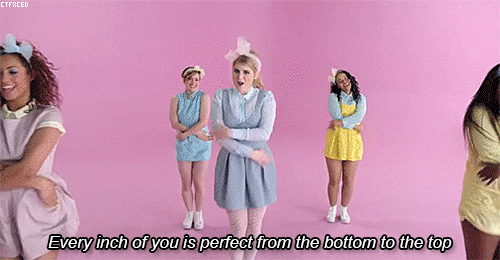 I'm not sure about you, but I have fairly oily skin especially in my T zone. This is a problem for most people I know, and it's supppperrr annoying when your makeup starts getting cakey/coming off halfway through the day. That's why primer is the ultimately lifesaver. I've tried a few brands, but I really like e.l.f's poreless face primer. It makes your pores look smaller and has Tea Tree and Vitamins A&E to fight wrinkles (cool). Plus, it helps my foundation smoothly go on  & stay on.
After I wash my face and let my lotion sink in, I'll rub two small pumps of primer all over my face. It dries pretty quickly, but while it does, I curl my eyelashes to prep them for mascara later. Total time: 45 seconds-1 minute. 
Step 2: Fake Flawlessness
I know I said that most of the items on this list are under $10, but this is the one exception. I love love love bareMinerals. I've been using it since I was 16 & I will never go back to anything else. It's natural, great for sensitive skin, has SPF in it & it doesn't look like you're wearing foundation–just that you have even, flawless skin. Even though it's on the pricier side, a little goes a long way so it lasts me a while. Plus, I figure if it's going all over my face, I might as well invest in it.
I always get the original loose powder foundation (PS it's award-winning) in fairly medium. I recommend going to a bareMinerals store to get your skin tone matched, although online they have a pretty good shade-finder. After I brush the foundation all over my face, I use bareMinerals' bronzer to give my cheeks a little color. I used to get just the classic warmth bronzer (which is great), but then I found A Little Sun bronzer, and I switched over. It has a little more gold/pink tints which I like with my skin tone. You can also swap the bronzer for blush if that's more your thing. Total time: 1 minute. 
Step 3: Get In Line
As mentioned before, I cannot do a cat eye for the life of me (some teach me please??) and liquid eyeliner is pretty much my worst nightmare. So I stick with regular old eyeliner from Maybelline. Yup. Again, been using the same Define-A-Line Eyeliner (in ebony black) since middle school. I like it because you don't have to sharpen it, and it goes on super smoothly. I usually water-line both the top and the bottom of my eyelids. Easy. Total time: 30 seconds, 45 seconds maximum. 
Step 4: Batting Lashes
If I had to only use one makeup product for the rest of my life, it would be mascara. Even if I don't put anything else on my face, putting on mascara makes you feel even just a little bit put together. There's a lot of discussion/debates on what's the best mascara (my sister actually emailed CoverGirl because LashBlast 24 hours mascara got discontinued) but I love Maybelline Lash Stilletto the best. It makes my lashes look super long without getting clumpy. Total time: 45 seconds-1 minute. 
Step 5: Hit Em with the Highlight
So highlighter is super new for me. I never used to use it, but my friend Sam had some on about a month ago, and it looked gorgeous so I decided to give it a shot. I'm obsessed now. I get why people go crazy about highlighter. It honestly makes your cheekbones look amazing & adds a little bit of sparkle. I'm not into contouring or anything (again, would have no idea where to start), but just brushing the top of my cheekbones with a little bit of gold highlighter makes a huge difference. I use MegaGlo Highlighting Powder (honestly because it's cheap & it was the first one I found/liked at CVS) and it does the trick. Besides brushing my cheeks, I put a little bit in the corners of my eyes. Apparently it's supposed to make you look more awake–the only helpful Cosmo tip I've read. Total time: 30 seconds. 
Step 6: Ready, Set, Go
And finally, to make sure everything stays in place all day long, I spritz some setting spray. Again, there are tons of kinds you can use & people have lots of opinions on them, but I like e.l.f.'s Mist & Set spray. It's refreshing, and it actually does help my makeup stay on all day. Total time: 10 seconds.
And that's it! 5 minutes later & I'm out the door. What are some of your favorite makeup products? Any tips for doing a cat eye? Leave me a comment below! &.