Spring is finally here (I think?) & that means it's time for a little bit of spring cleaning. Personally, as soon as the weather gets warmer, I get the urge to clean everything. Mostly it takes form in cleaning out my closet & getting rid of old clothes I don't wear anymore (to make room for all my new fun spring/summer clothes ;)), but this year I've extended spring cleaning into other areas of my life too. After this dreadful obnoxiously long winter, it feels super good to clean everything out & feel light again. So here are a couple (easy) tips to spring clean your whole life. Most of these tasks take less than an hour to do so you'll be feeling better in no time.
Clean up your makeup bag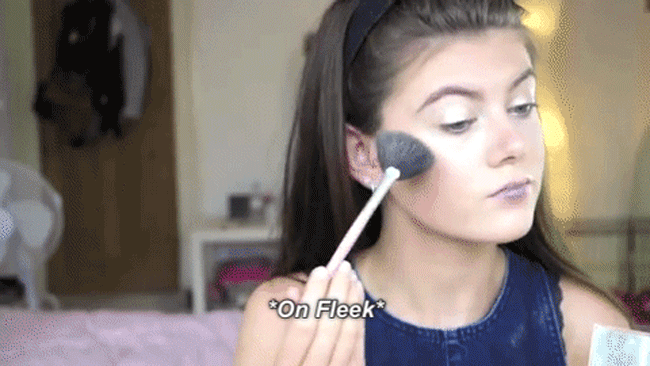 Soooo I sorta knew that makeup/beauty products expire, but honestly never really paid attention to it.  It wasn't until I noticed some lotion I had wasn't the right consistency that I realized it had expired 2 years ago. No bueno. Do yourself a favor and do a quick inventory of your makeup/beauty supplies. Some products have a literal expiration date while others have a Period After Opening (PAO) symbol (ex: you may see a little icon with "10M" meaning you should dispose of it 10 months after you buy it). Here are some general guidelines of when you should toss your makeup/beauty products:
Cleanser: 1 year
Toner: 6 months-1 year
Moisturizer: 1 year
Concealer/Foundation: 1 year
Powder/blushes/bronzer: 2 years
Mascara: 4-6 months
Eyeliner: 6 months-1 year
Lipstick: 2 years
Nail polish: 2 years
Don't be alarmed if you've been using expired makeup/beauty products (guilty), but using them consistently over time may cause you to have a reaction to it or the products may be less effective (think SPF in moisturizer). Besides, if you get rid of makeup, it gives you an excuse to ball out at Sephora. 
Related: My 5-Minute Makeup Routine
Declutter your inbox
I talked about cleaning out my inbox/unsubscribing to random emails in my digital detox post (here!) but it's worth mentioning again. If you haven't heard of Unroll.me, you definitely need to check it out. It basically does an inventory of your email and shows you a list of all the newsletters you subscribe to. Then you can opt to unsubscribe, keep in your inbox or include in your "Daily Rollup" which is just ONE email that consolidates all the newsletter you actually care about. (So if you still want to see JCrew's sales but don't want 5 emails a day from them, throw them in your Daily Rollup). It takes 5 minutes to set up and will make your inbox sooooo much better. 
Shake up your stale routine
Routines are great. They keep you grounded, create structure & help you feel calm in times of chaos. Routines can also get stale. Spring is the ideal time to completely shake up your routine. For example: I'm a weirdo who actually likes doing yoga at 6am, but getting up in the pitch black, 30 degree weather actually crushed my soul. But now that it's lighter and warmer, I'm more willing to actually get up & work out in the morning vs. evening. Even doing something once a week (going to a new coffee shop for breakfast, getting drinks on a Wednesday, trying somewhere different for lunch) can help you get out of the monotony & revitalize you. Again, doesn't have to be a huge life change, just a little tweak to your daily/weekly routine.
Update your wardrobe
Probably the best part of spring. I lovelovelove shopping for spring/summer clothes. Give me all the sundresses in the world. Like I said before, do a deep clean of your closet (this blogger has a really great post about how to decide what to toss/keep!). Either donate the clothes to Goodwill or H&M has a clothing recycling program where you can bring in your old clothes & get 15% off coupon (win-win). Then get to shopping! Obviously a lot of stores have spring sales, but I'm also a big fan of Stitch Fix for my initial spring shopping because they do the shopping for me ;) You don't have to spend a crazy amount of money, just find a few new pieces to celebrate the warm weather. If you look good, ya feel good. 
Try a new workout
Warm weather makes me feel more adventurous in general. If you've been stuck in a workout rut all winter, try something new this spring. Obviously I'm a biiiiig fan of yoga, but I've been sprinkling in Soul Cycle once or twice a month to change it up. My friends also love SolidCore and Orange Theory if you want to give those a try OR be on the lookout for free/discounted outdoor workouts! I know in Philly, there are TONS of opportunities for outdoor yoga, boot camps & more in the spring/summer. It's a good way to 1. get outside 2. try a new workout and 3. meet new friends! We're all trying to get that summer bod so switch up your workout for a change of pace. 
Thank goodness this awful winter is finally over. Happy spring, y'all! &.
In case ya missed it…