When my group of friends and I were juniors in college, we decided to throw our first Friendsgiving (read about it here).  We had just moved into our junior apartments and figured we could all manage to make traditional Thanksgiving dishes. What started off as 10ish people wanting to sit around and eat turkey turned into 50+ friends reserving a lecture hall & my friends Danielle and Christa making not one, but two turkeys.
Senior year, we had another Friendsgiving, just as big, just as fun. When we all graduated, we dropped the ball on Friendsgiving (idk, we were learning how to be adults or something), but then last year we came back in full force (albeit smaller than our original Friendsgiving) and managed to pull off the prettiest/most adult meal I've ever had.
Friendsgiving 2017 will be happening next weekend, and it's safe to say that my friends and I have this whole Friendsgiving thing down pat. So, I wanted to share some expert tips on how to throw your very own awesome Friendsgiving. Gobble, gobble.
Designate who's Making the Turkey
Obviously, the turkey is the main star of the show & it's no easy undertaking. Ever since that first year, Danielle and Christa (+ a few helpers) have been tasked with completing this huge feat. Making a turkey is not easy, but without it, it's not Thanksgiving. When you're planning your Friendsgiving, figure out who's going to make the turkey. I suggest getting a team of 2-3 people to do it & it's easiest to make it at the host's house (if you're able to go over there early in the day). Here are tips from Christa (the turkey expert herself):
Do the prep the night before! Wash the turkey out, season it with your personal seasoning preferences (I️ usually go for a classic salt and pepper situation), and make sure you have all of your materials.
If you find the tips of the wings or other parts of the turkey are starting to get too browned, wrap small pieces of aluminum foil around them. It will save you from burned turkey skin and also make your turkey look like it's heading into space or something cool like that.
Call your Mom! (Or whoever else is your family's resident turkey expert.) It will make them feel good, it will make you feel good, and it will remind you what food and Thanksgiving is all about: bringing people together.
Name your turkey! Morbid, perhaps, considering that you will soon be eating him/her/it, but it will also give you a fun, personal connection to your bird and will sound more fun when you get to say "Gotta go check on Greg/[insert name here]!" every few hours.
Create a Facebook Group/Event to Keep Track of Dishes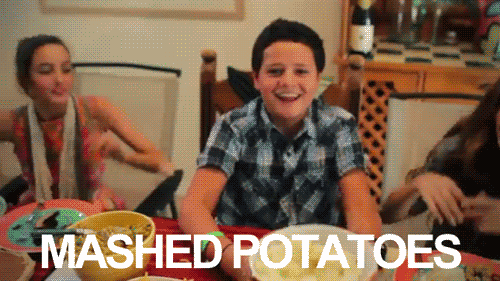 If your group of friends is anything like mine, you probably can't all get together unless there's a Facebook Event for it. Besides basic logistics, a FB event is a super easy way for people to RSVP and post what dish they're going to bring so you don't end up with 3 pumpkin pies (although there are worse things in life). Also, if you're hosting, keep a running list on the side for planning purposes (who will need the oven? How much space do I need to clear out in my fridge? Any food allergies to be aware of?) It's just the easiest way to stay organized, plus it generates a lot of excitement as Friendsgiving gets closer!
Assign someone Appetizers
While you want everyone to cook something they want to/are good at making, task someone with making some simple appetizers (seriously, it can be a cheese plate & some crackers). This is actually something my friends and I haven't done yet, but it usually always takes a little bit for the main meal to get set up and ready, so it would be nice for everyone to nibble on something while they wait.
Bringing a dish? Bring a serving spoon, too.
Because you'd be surprised that your friend Chris & his three roommates only have like 2 spoons in their entire kitchen which makes serving mashed potatoes v. hard. If you're bringing a dish, bring a serving spoon/utensil too. Makes everyone's life easier. Oh, and LABEL IT. Otherwise you will never see it again.
Make Sure There's Enough Wine
"Get the party and conversation started." –my amazing, gorgeous best friend JD.
Traveling from out of town? Not a cook? Paper goods are your best friend.
Like you've probably guessed…Friendsgiving is a BIG deal for my group of friends. Such a big deal that we have people coming into town for it. Of course, if you're traveling to go to a Friendsgiving, it's hard to cook/transport a dish, so offer to bring paper goods instead. This also applies if cooking is so not your thing. Someone has to bring paper goods anyways, so if you're out of town or can only microwave Ramen, bring paper goods instead. You can even do what my friend Alissa did and order/ship paper goods directly to the host's house (#extra). Remember all the basics: plates, cups, napkins, plasticware. I'd double the amount of paper goods per person coming because you always need extra forks & napkins. Always.
Buffet Style all the way
A buffet is soooo much easier than passing dishes around the table. That way you have more room while you're eating, and people can easily help themselves to seconds. If you can, put the buffet in a separate/adjoining room so it doesn't get too crowded while you eat.
Be Smart with Setting the Table
Last year, my friend Francis when above & beyond with the decorations. Holy crap, when I say Friendsgiving 2016 will be nicer than my wedding someday… I'm not kidding. (All the pictures are here–seriously crazy). Obviously, fancy~ table settings are optional, but consider getting a roll of brown kraft paper (here on Amazon for $15) to use as table cloth. 1. It looks super rustic and trendy (watch out Joanna Gaines) and 2. it makes clean up super easy. Also, I absolutely love a candlelit dinner, but be careful. Things catch on fire easily. Consider twinkly lights instead.
Start a tradition
Hopefully you and your friends will throw a Friendsgiving every year, so it's fun to start a tradition! Our first two Friendsgivings, we had a poster where we could all write what we were thankful for on it & last year, we created a little book of a person, object & intangible thing that we were grateful for. At the end of the day, Thanksgiving is all about being together & practicing gratitude so it's nice to have a tradition that honors that.
TRASH BAGS.
Seriously, make sure there are enough trash bags. Pro tip.
There you have it! Everything you need to throw a memorable Friendsgiving. Enjoy! &.