I always say that I'm the best version of myself in the summer. I think that's pretty true across the board–everyone is the best version of themselves in the summer. How can you not be? The weather is gorgeous, work is usually slower (hello summer Friday's!) and everything is just more laid-back & relaxed. I'm so much happier in the summer because summer doesn't only make me want to slow down, but it also makes me want to try new things. Summertime = the best time for adventures. Here are some things to bring out your adventurous-summer side.
Malvern Buttery
I'm fortunate enough to get half-days every Friday in the summer for work (such a huge perk of my job), so last week I decided to check out a new coffee shop with my free afternoon. My friend Francis (artist, lover-of-life & dedicated Ampersand fan) always Snapchatted this place Malvern Buttery and convinced me that I haaaaad to go because "it's so me." Well, he was right–I absolutely fell in love within minutes of walking through the door. While it has all the traditional coffee-shop favorites, it also has a huge buffet full of baked goods & small bites. It's a little far from my apartment/work, but well worth the drive. If you're ever in Malvern, I highly recommend you stop in (& get a chocolate croissant for me).
Book a Flight & Just Go
My wanderlust is always super bad this time of year. It's probably because everyone is taking these awesome vacations & summer always reminds me of when I studied abroad in Italy. What usually hinders me from just booking a trip & getting out of here is the price of flights–if you don't hit it right, they can be super expensive. Enter Skyscanner, a website (and free app!) that compares thousands of flights to find you the best deal. Plus, you can set up email alerts to track the price changes day to day. Want more great travel apps? Check out this post from The Bold Brunette. 
You are a Badass

This. Book. I've been obsessing over this book ever since I put it down. I'm pretty sure I've told all my friends multiple times that they have to read it. Full disclosure: it falls under the self-help category, but don't let that deter you. I'm not usually a fan of self-help either, but my friend/fellow blogger highly recommended it so I gave it a shot. I'm so glad I did. It's hilarious & relatable. Jen Sincero does an awesome job of giving you an entertaining pep-talk, page after page. Buy it here & go live your awesome life. 
Find out Where the Party's At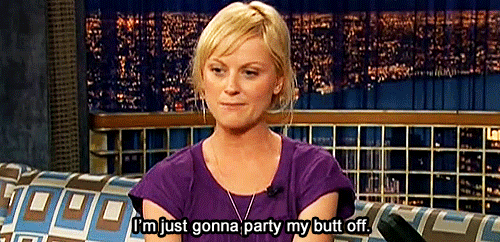 Ever wonder which bars are hoppin' (or conversely which ones aren't super crowded)? I recently discovered an app called Social Status that locates nearby bars, restaurants & coffee shops and tells you how crowded they currently are. For something like Philly's Center City Sips, this app is definitely a game-changer.
Throwback Jams
What's better than summer jams? Throwback summer jams. Spotify has a new playlist "Your Summer Rewind" which includes all your personal favorite songs that you've rocked out to in past summers. It's pretty lit, check out your personalized playlist under the "Browse" tab.
Liking "Glorious" by Macklemore on repeat & Favoriting currently planning fun summer trips &.